Let me share with you the sweet story behind this jacket. Gabby and I were looking around Zara when a fashionable woman walked in front of us, wearing this exact same piece. I was so close to randomly approaching and asking her where she got it as I really wanted one for myself but Gabby insisted that we look around first as he had a feeling that the chic camo jacket was just in store.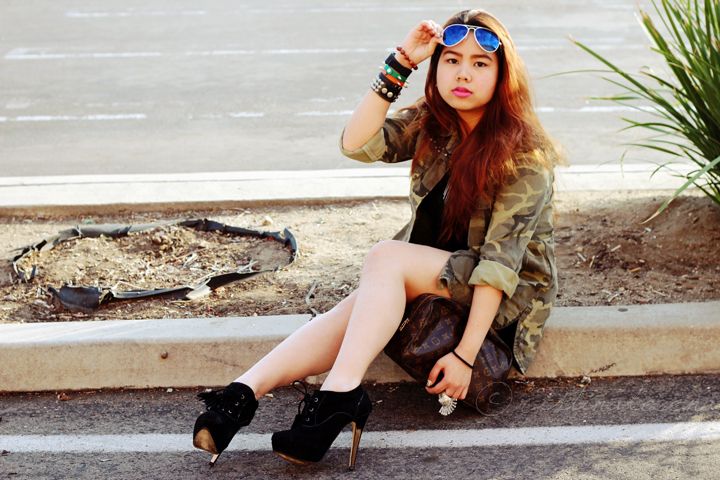 Enchantingly enough, it was and I froze upon finding it at the TRF Section. Without more ado, I checked the price tag but thought that it was too much so I just shrugged it off and walked out of the store empty handed. Days passed and there were times when I thought of going on a spree for it but I never actually got to do so. Until one casual day, I found a Zara paper bag lying around the house (with a cheesy love letter in it too!) and the rest is history.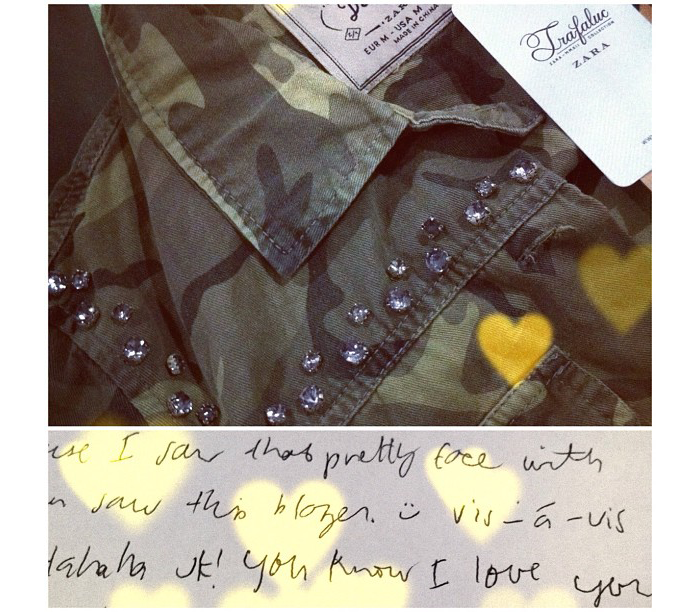 "I saw that pretty face with glowing eyes when you saw this blazer."
Thank you for the sweet surprise, love! <3 Photo taken via Instagram (@cristinadecena)
What I wore: Black sports bra [Nike Women], Black midrib corset [Borrowed from my sister], Black lace bandage skirt [Signatures by Cristina A.Venue], Zara camouflage jacket with rhinestones [Gabby's gift], White reflective aviator sunglasses [Kenneth Cole], Gunmetal spikes necklace [Bangkok], Black Databank calculator watch [Casio], Green and Orange Striking Spikes bracelets [Awesomized], Blogger bracelet [The Bead Shop], Black spiked leather cuff [Random], Saville platform shoe boots [Topshop], Louis Vuitton Monogram kit [Stolen from my mom], Nails by Nail It! Salon | Photos by Dana and Denny Decena
How about you? Do you fancy love letters too?