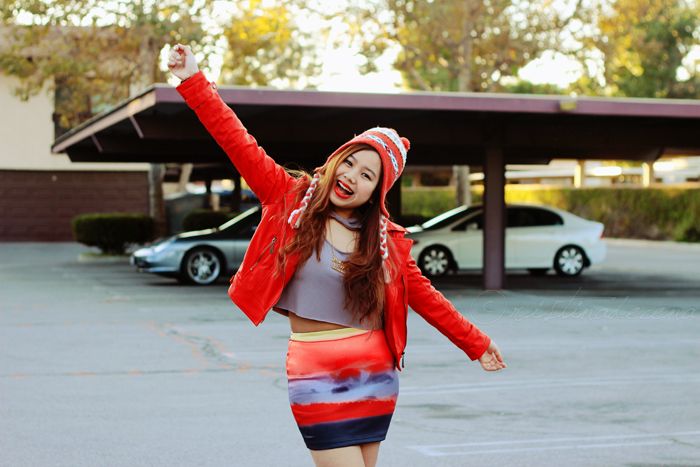 Well, look who's overjoyed! Some time ago, I took notice of the saying that "The happiest people don't necessarily have the best of everything. They just make the most of everything that comes their way."
Too often, we live a life filled with discontent. We constantly yearn for more than what we possess, even if what we have in our hands is already enough. To live wonderfully, one does not need to own all the material things present in this world. One simply has to make the most out of every circumstance that life has to offer. Know and be grateful for what you have. Choose happiness.
On to my ensemble, I wore this to another day of wandering around the lovely city of LA. Can you recall the top that I wore the other way around from this post? ♫ Oops, I did it again. That bow detail was too cute not to flaunt up front. What's more, I adored how I was able to don my ear flap beanie without feeling weird the entire day.
P.S. Please put up with with me as I continue to deal with my blog backlogs. It seems never-ending pero keribels ko ito! ;)
What I wore: Gray crop top with bow detail and Red leather jacket [Signatures by Cristina A.Venue], Galaxy print bandage skirt [Joy's gift], Orange knit ear flap beanie [Thrifted], Gold "Strutting on Sunshine" wire art necklace [Anagon], Black printed socks [Hong Kong], Saville platform shoe boots [Topshop], Nails by Nail It! Salon | Photos by Dana Decena
P.P.S. Please help me win as SuperSale Bazaar's Viewer's Choice by simply liking this photo. You get the chance to win my Girl Meets Pearl Giveaway just by doing so as well! Thank you so much!