Being open to new possibilities is nothing but a great thing. A person's profession and eventually one's whole existence come about by trying out new things and unexpectedly realizing an ideal fondness for something they never thought would delight their spirits. It's true what they say; you'll never know if you never try. 
For this particular ensemble, I stepped out of my comfort zone and left my typical neckwear behind. Detachable collars have been around for quite some time now but I only got to wear one recently, special thanks to Jac of flatterbuy. One lovely discovery from this deed? A newfound love for these brilliant babies! It's wonderful how they effortlessly perk up any top in your closet, minus the heat and hassle of additional layers.
What I wore: DIY YSL graphic printed crop top and Gold pumps [Bangkok], Zebra print trousers with bow detail [Signatures by Cristina A.Venue], Gold spikes stud earrings, Gold five row spikes bangle and Black and White mini mustache rings [Young Wild Free], Great Gatsby collar [flatterbuy], Gold Louis Vuitton Miroir Alma [Mom's hand me down] | Photos by Joy Maslog
The holidays are right around the corner, so rather than reaching for your favorite shiny dress this season, the SuperSale Team highly suggests spending on your wardrobe at 90% off. From your favorite fashion brands to Christmas decors, the biggest premium Holiday shopping experience is here. The SuperSale Bazaar Holiday Edition will be held on December 1st to 5th, 2012, from Friday to Wednesday, 10am-9pm at World Trade Center's Hall D. Well aware of the crazy Christmas rush, the SuperSale Team has extended the shopping experience from the normal 3-day sale to five days of hunting for on-trend bargains!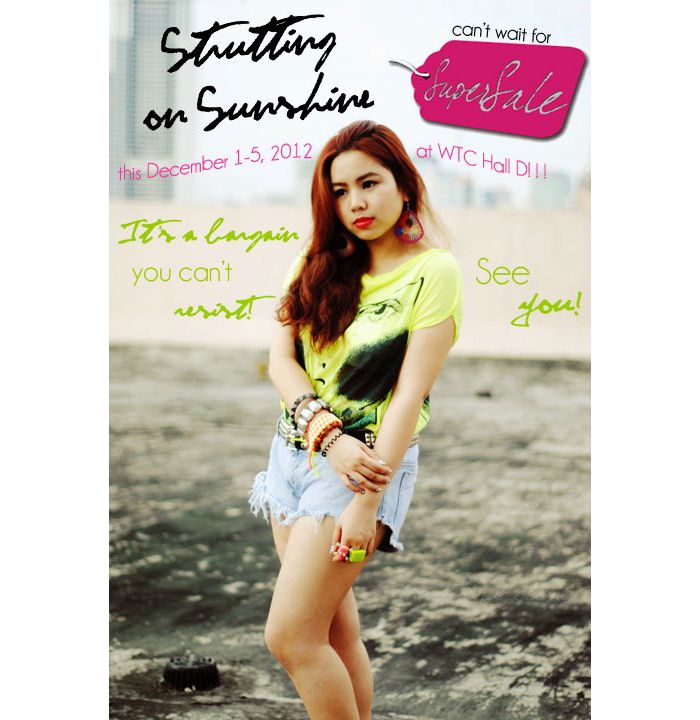 I am truly honored to be a part of the biggest bazaar of the year and it would mean so much to me if you could 'like' my photo here. Get a chance to raid trendy threads straight from my closet and score limited edition Berry Couture and Young Wild Free pieces as well!
Want free passes to this fashionable fair? 
1. Follow @cristinadecena and @supersalebazaar on Twitter.
2. Tweet this: "I am excited to raid @cristinadecena's booth at the @supersalebazaar this December 1-5!" Please make sure that your Twitter profile's set on public so that I can see your tweet.
3. Leave your name and Tweet link on the Disqus comment box below this post not later than tomorrow, November 29, 2012 at 6:00 PM. Winners will be chosen on a first come, first serve basis and will be announced via my Twitter.
Whether buying party outfits or surprising your family and friends with the nicest gifts, the SuperSale Team and I myself guarantee 100% shopping satisfaction. See you there!