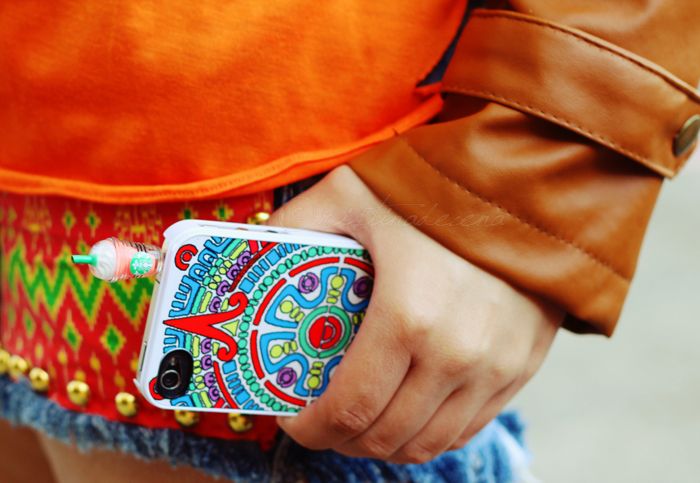 ♫ I hopped off the plane at LAX with a dream and my cardigan. Welcome to the land of fame, excess, am I gonna fit in?
Yeehaw! Looking at this set of photographs makes me miss the City of Angels. Their wonderful weather is completely conducive to playing dress up. This day, I channeled my inner cowgirl by taking cue from this pretty pair of boots. If truth be told, inspirational fashion comes from the most unexpected odds and ends. All that's missing is a good ol' cowboy hat and I'll be ready to ride a horse!
I wore this Western-inspired ensemble to a delightful day of shopping at Citadel Outlets. My stylish and snug leather jacket plus boots with the fur got me feeling warm in spite of the chilly weather conditions.
What I wore: Orange custom made ripped top [Mizar Clothing], Aztec studded shorty shorts [Bubbles], Aviator Tech sunglasses [Ray-Ban], Gold plated Aztec necklace [Cool Cats Manila], Tan leather jacket [Signatures by Cristina A.Venue], Brown fur boots [Hong Kong], Hermes Twilly silk scarves and Hermes Amazonia Brown Buffalo Leather Garden Party MM [Signatures by Cristina], Aztec on white iPhone case [My Shopperoo], Pink Starbucks ear plug [Dapskie Online], Nails by Nail It! Salon | Photos by Dana Decena